Be a part of the Barter Boom with over 55,000 businesses worldwide, Bartercard International (BCI) is the world's largest Trade Exchange and is internationally recognised as the leader in its field.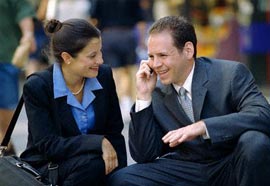 The Bartercard Trading Programme enables businesses to trade in goods and services without the need for cash. It allows organisations to grow and diversify whilst saving on their outlay and thus helping control cash-flow. This age-old form of business has been brought into the 21st century by Bartercard's unique methods of accountability, support and security.
Established in Australia in 1991 and in the UK in 1996, Bartercard has seen unprecedented levels of growth in membership and trade volume. It now facilitates trading of more than £30 million per year in the UK and worldwide trade volume is expected to reach US$2billion this year. By concentrating on the largest single sector of the business market - small to medium sized enterprises - Bartercard UK has proved that this form of trading is a vital part of the new economy.
Bartercard is a founding member of the International Reciprocal Trade Association (IRTA) which provides the industry with direction and guidelines. Bartercard UK is also a member of the British Franchise Association (BFA).

Operating a Bartercard franchise gives you the opportunity to participate in barter trade - the most dynamic economy in the world today.
A Bartercard franchise offers an excellent opportunity for you to start your own business, but safe in the knowledge that you'll have the backing of a successful business concept, innovative marketing programmes and the support of an experienced team.
Bartercard has helped business people in many countries set up their own successful franchises. Indeed, many franchisees have established multi-territory businesses.
The benefits you can expect as a Bartercard franchisee include:

Exclusive territory for development
Excellent earning potential
Comprehensive training and support programme
Franchisee kit
Full administrative support
On-line credit and company searches
Advertising and promotional activity
Access to national and international trading opportunities
Full training in Australia at Bartercard International Head Office for management team
Franchise cost includes the supply of computer hardware


Franchisees receive income from three main sources:
Commission on new members joining the scheme
Commission on trading by members
Capital growth of your business
Bartercard knows that the commission structure offers franchisees the opportunity to receive a high return in comparison with other franchise organisations.
There has also been proven ability worldwide to on sell the franchise at a premium.

Sales Training
Bartercard will cover your travel, accommodation and training expenses for centralised training seminars. We will also train up to four of your sales people at no extra cost.
Trading Training
You and your Trade Co-ordinator will be able to attend trade training sessions which will assist you in developing common goals and strategies.
Administration Training
Comprehensive training both on-site and at Bartercard's head office. Your computer system will be fully installed and includes software and accessories.
On-going Training
Bartercard provides on-going support and advice on many areas of the business, including:


It is our belief that communication is key to the success of Bartercard franchises. You will have access to Bartercard experts in all aspects of running your business including administration, marketing, accounting, IT and human resources.
You will also be continually updated on business performance including weekly reports on all clients, account balances, sales and purchases. Bartercard hold national conferences and regular telephone conferences to provide a forum to exchanges ideas and experiences.

Our marketing department will assist you in devising and implementing marketing campaigns tailored to your local territory, as well as co-ordinating national activity.
This marketing and promotional activity includes:
Radio advertising
Direct mail
Press advertising
Taxi Advertising
Internet communications
Competitions

Sponsorship





Bartercard's sponsorship programme gives the company a high profile in the business world and in the local community. The Bartercard sponsorship and event portfolio includes:
Sports sponsorship:
- Football
- Rugby League Tri-Nations Championship
- Indie motor racing
- London Irish Rugby
Activity days for existing and potential members
Executive of the Year Awards
Business associations and Chambers of Commerce
Charity organisations


Many successful franchisees entered the Bartercard network from a wide variety of backgrounds with no previous product knowledge.
A successful franchisee will usually have good communication skills and a presence to interact with people in a self-assured, but relaxed and confident manner. They are able to cope with the pressures and needs of a high-demand market. They will be practical, enthusiastic and will have a strong desire to be successful in running their own business.
New owners have the support and encouragement of their families. They are goal driven, possess positive attitudes, strong work ethics and strive to be the best in all they do.
When we are both satisfied that a Bartercard franchise is the right choice Bartercard will prepare you for a successful launch. A comprehensive training programme encompassing over ten years of successful trading is attended by all of our franchisees to ensure that each one is confident and ready to give the unparalleled customer service that is expected for our members.

Either have a look at the the Bartercard Web Site by clicking Here
Or complete our short form and we will arrange for an information pack to be sent you.