Richard Bennett took over the Card Connection territory of Croydon in 2007. Richard had retired from banking, having worked in large corporates for most of his life. He has recently renewed his franchise contract for a further five years.
"At the time, I was looking for something new!" Richard explains. "I wanted to run my own business but knew starting out alone would not be easy, so looked at franchising. I wanted to work from home and so after a series of elimination I narrowed the choice down to three greeting card companies. I visited two but it was clear Card Connection had put a lot of effort into their presentation to me as a potential franchisee and they stood out from the crowd. I was also impressed with the quality and range of the products which are constantly updated and have a broad appeal to both consumers and retailers alike. Once I had spoken to other franchises: it was not a difficult decision!"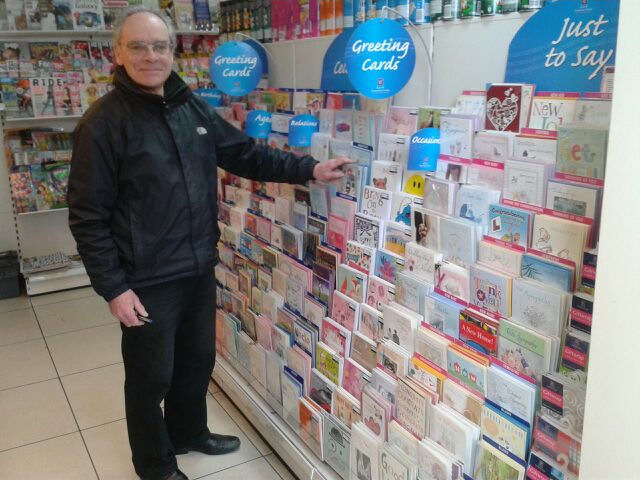 Card Connection is a greeting card publisher and the leading greeting card franchisor in the UK and Ireland. A full member of the British Franchise Association, Card Connection's network of franchisees use a proven system to place quality greeting cards and gifts in retail outlets. Richard now supplies around 200 retail stores in the Croydon area.
Richard continues: "I work with my daughters who help me part-time and I look after all the merchandising. I'm usually at my first call by 8.30am and then I visit around eight stores each day, to remove the old stock of greeting cards and update and refresh displays with new and seasonal products. My daughters help unpack and pack up the boxes ready for the next day's deliveries.
"The retailers I visit are quite a mix: from Card Connection's national account customers like BP, Londis and Cost Cutter, to smaller independents. Even florists are now keen to stock quality greeting cards. They tend to like the high-end, hand-made cards and Card Connection's Santé premium range, while the local corner shops prefer the lower priced cards. Card Connection's range is impressive and extensive so there is always the right stock available to suit the needs of the outlet.
"The great point about the franchise is that Card Connection's staff are always on hand to provide support if necessary. If there is any problem I can always get help immediately. Yet, on the other hand I am responsible for running my franchise. I enjoy working for myself and I am rewarded for all my efforts. I also love the fact I don't have to do the daily corporate commute anymore!
"If I had to offer some advice for anyone considering franchising it would be that you need to be a self-reliant person. You need to be able to take responsibility for getting the job done and also be confident to go out and talk to people about what you do. Franchisors like Card Connection have removed much of the risk of starting a business, they have National Account customers and the product is already there. However, as a potential franchise you will have to work hard and yet, with that comes the flexibility and reward of running your own franchise."
Card Connection's franchise network in the UK is complete, therefore, the available opportunities now consist of acquiring an already-established territory from an existing franchisee. These vary in price according to their level of development, but start at £7K + Stock + Card Connection fee with earnings potential in excess of £50k per annum. For further information please see: www.card-connection.co.uk