Jamie Hickson spent most of his working life in banking and finance before radically changing direction and joining Kare Plus, one of the UK's leading medical
and domiciliary care franchise.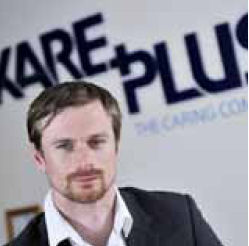 Now into his second year as a franchisee, Jamie's business is growing strongly and he predicts that he will achieve turnover of£750,000 by the year-end with average profit margins of 40 per cent. He says he's never been so busy, but is loving being his own boss and enjoys a sense of satisfaction that makes the hard work well worthwhile.
"I have been staggered by the rate of growth – and delighted too, of course!" he admits. "I've found that there is huge demand for my services and I'm more
convinced than ever that the potential for this business is absolutely colossal!"
Jamie had always wanted to work for himself, but the trigger to focus on the care sector was an unhappy experience in his own life, when a close relative became ill and failed to receive the quality of support and care the family expected.
"The clear need for high-quality care that I'd seen at first hand motivated me to look at setting up a company to provide these services," he confirms. "I quickly realised that going it alone would simply not be an option. The protocols and compliance requirements you need to even get through the door, let alone grow and succeed, are just frightening."
He recognised that the best route forward was to identify and buy into an existing, established brand, with proven clinical experience and the necessary compliance
documentation already in place. He chose Kare Plus because the franchise provides much greater scope than most competitors, as he points out: "You're not restricted to domiciliary care with Kare Plus, you can also provide medical care and nursing staff too."
In fact, Jamie has spent his first year solely providing services to care homes, simply because he's been swept off his feet by demand from that sector. However,
at the beginning of the year, he recruited a registered manager to support him in growing his business further and he's now poised to expand into the home care market." "This is what I call a 'needs must' industry," explains Jamie. "Our ageing population and changes in the NHS have led to rapid growth in the marketplace. Currently I have around 50 carers and nurses on my books, around 12 of whom are working full time, providing services to 30 different care homes. There's been fantastic spin off from that work in that our name is getting well known in the community as local providers of reliable, high-quality care, so we're picking up private customers as we go."
In order to operate in the domiciliary sector, Jamie and his new manager, Jayne, have had to secure Care Quality Commission (CQC) accreditation, which lays
down stringent policies and procedures for compliance. The experience of Kare Plus has been invaluable in supporting them through the application process, Jamie says."From knowing nothing about healthcare provision when I started, I'm so much more confident now. I've learned so much in such a short time and am operating my business increasingly independently. However, you never stop learning and I know I can count on the team at head office to get me where I need to be – whether it's keeping me abreast of the constant changes in compliance requirements, or helping me through when things get tough!"
Now that Jamie has a full-time manager on board, he's ready to ramp his business up to the next level and is looking to tap into some of the lucrative NHS contracts that Kare Plus is constantly tendering for nationwide.
"Although I was well paid in my previous career, my earnings with Kare Plus are already much higher and have the potential to increase significantly over the next few years," he concludes. "You have to be prepared to put in the hours and cope with the demands of a rapidly growing business, but the rewards are certainly there – not only in terms of money, but in the satisfaction that comes with making a real difference to people's lives!"
For more information on Kare Plus click here