We had decided after very careful thought to go into business for ourselves, Dave had previously had his own business but always said if he went into business again it would be a franchise.
So we began the long task of looking at what was available. Having sought advice and read a lot that domestic cleaning was the thing to get into. Then it was a matter of deciding on which one!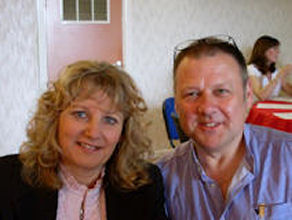 We looked at Molly Maids, My Home, Merry Maids…etc etc..! and stumbled upon Maid2Clean at a franchise exhibition. We drove home from that exhibition thinking how easy and relaxed Maid2clean seemed to be and thought maybe it was too good to be true, as we had rejected the others for being too rigid and formal.
After a couple of weeks careful thought we decided to look more closely at Maid2Clean and rang Mike to make an appointment.
We arrived at the arranged meeting full of doubt and apprehension about what we may be getting into as £10,000 is a lot of money for us. We were made to feel very welcome at Mike and Elaine's home and felt very comfortable, also we got the impression that Mike and Elaine had nothing hidden from us and were very open and honest. (and the bacon sandwiches went down very well).
On the drive on the way home we made the decision to buy into Maid2Clean. Although we didn't want to appear too keen so waited a few days before calling Mike.
We started the business with Carole still working part time for her employer, and it became apparent quicker than we had anticipated that Carole needed to be in the ''office'' at home more and more and now really enjoys working full time (well almost)…. for triple the income she had previously.
We are now coming up to our second anniversary of trading and all we can think of saying is why didn't we do it sooner..!!
Our growth has been very steady, on the up every month without very much effort due to the Maid2clean system being very foolproof.
Mike and Elaine are always very helpful and full of enthusiasm for us to succeed. Also help and advice from fellow franchisees on the forum is always available and because of this we have not had any real problems or worries.
As for the question "would we do it again"... Answer... without any doubt or hesitation. Best thing we ever did.