I bought my Norwich Papa John's franchise in May 2012. Although I had no fast food experience, I think my previous business background has been helpful to guarantee the rapid start-up success experienced by the franchised store. This backed up by a strong brand and supportive Papa John's management team and training programme has got the business off to a great start.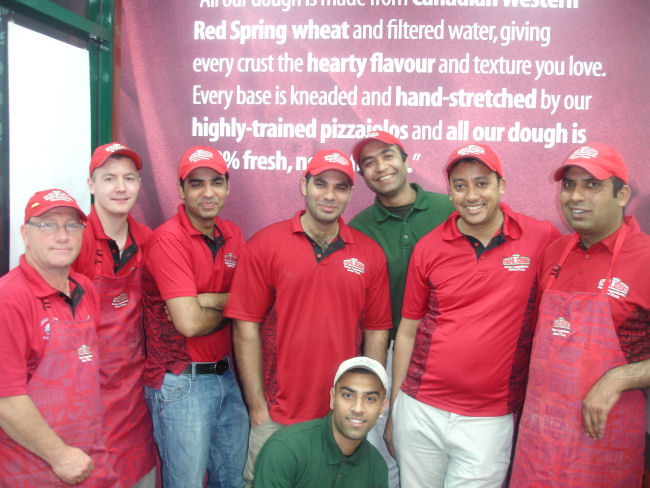 Before joining Papa John's I was a director at PROview Accounting Ltd and a manager at Stratford College in Walthamstow for seven years before deciding to do something completely different, which resulted in a move to Norwich. Manzoor Hussain, a good friend and now business partner first inspired me with the Papa John's concept. When Manzoor approached me about a potential Papa John's franchise opportunity, I knew it was time to do some due diligence.
My research showed Papa John's was a popular and rapidly growing brand. The business-minded side of me meant I liked the Papa John's model, which has the opportunity to expand through setting up multiple outlets. I also liked the fact that it is a dynamic, positive company with a top quality product. Papa John's is also about growth and growing and I liked that.
In addition, Papa John's is the only branded pizza chain to use only 100% fresh dough, giving a better natural flavour and the company's unique tomato sauce is made from the best Californian tomatoes, picked and packed from vine to can in just six hours. Because Papa John's uses only the finest, fresh ingredients the product is easily the best in the market place.
Once the decision was made, we were lucky enough to be able to take over an established store in the centre of Norwich. We now employ around 15 staff who are a mixture of full and part-time employees. All our staff are sent to Papa John's head office for training and are supplied with a work booklet to complete so they fully understand how Papa John's functions, and what their responsibilities are for their role. We have also implemented our own training covering phone answering, upselling customers and how to handle any issues properly.
We ensure all our staff fully understand the importance of providing the best quality product with the best service and our training is focused to ensure they deliver on this promise. Quality service is ensured by educating all staff of what's required of them and making sure they are aware of the high standards they must maintain at all times.
However processes are also important. Each day we have a 'check-list' for staff to work through to ensure the store is immaculately clean, the fridges are checked to be the right temperature and all the staff know their roles for the day. This adherence to guidelines ensures our staff are all pulling in the right direction and guarantees consistency in our offering. With this input, pretty quickly, all the staff were on side with the new management team.
From a marketing perspective, we used Royal Mail to distribute 55,000 leaflets and vouchers and set up sponsorship links with the University of East Anglia. This was really successful and increased footfall in the store.
We have also introduced 'mega weeks' where we invite customers to come and try a particular pizza at a discounted price. Transactions increase substantially during these 'mega weeks'. Although, we do not greatly increase revenue due to the heavy discounting, it is a successful marketing exercise and a chance to introduce new customers to our quality pizzas. New customers are also given voucher books to incentivise them to return very soon!
Our efforts were rewarded as the Papa John's area manager has recently been pleased to inform us that our turnover had increased by 75% compared with the same month for the previous year's trading.
The great thing about the Papa John's opportunity is that there is plenty of chance for us to grow as much as we really want too. Plus, the franchise has got the personnel and back-up in place to help to realise our future goals. Our plan is to build upon the success of our current store. As soon as we are ready and feel confident, we will open more stores.
Our first Norwich store was financed by personal investment; however, we aim to open a further Ipswich store very soon. We aim to expand quickly and are already investigating suitable sites for a third store in the future.
By Nash Jourmun, Papa John's Norwich Franchisee