Cash Generator: An award winning, discount retail franchise success story
Since opening the first store in 1994 in Bolton, Lancashire, Cash Generator has grown rapidly to become the UK's most popular loan, buy and sell store. With a turnover of over £170 million and an ever strengthening presence on the British High Street, Cash Generator is set to strengthen its position even further in 2010 with over 20 new stores planned to open. Indeed, the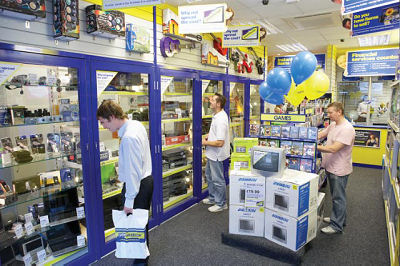 famous yellow and blue of the Cash Generator logo has become one of the UK's most instantly recognisable brands, synonymous with choice and value.
As we are all aware, the current global recession has been one of the deepest in living memory. In terms of franchise businesses, many seemingly strong business models have struggled to adapt to the rapidly changing economic climate, cutting deeply into franchise investments nationwide. Conversely, the economic pitfalls that have damaged the prospects of many other franchises have actually strengthened those of Cash Generator. Indeed, we now have over 110 stores across the UK and an ever increasing turnover.
Cash Generator is an ethical franchise opportunity that offers multiple income streams from discount consumer retailing of new, graded and pre-owned to the following financial services:
worldwide money transfers
currency exchange
payday loans
pawn broking.
The simple truth is that a welcoming and well run Cash Generator store can buy and sell pre-owned goods at a higher margin than new product and at the same time become a centre for the local community. To broaden the geographic appeal of the brand even further, we have recently launched CashGenerator.co.uk – an advanced and fully transactional website. Why not try it for yourself?
To enhance the Cash Generator opportunity, we work closely with our franchisees to ensure that they receive all the specialist support, advice and training necessary to make their business an unqualified success.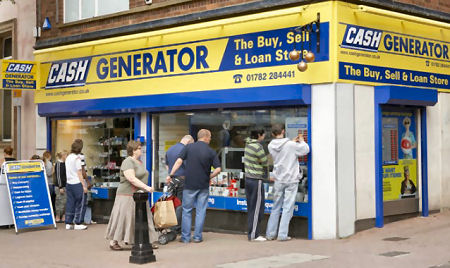 Although many of our franchisees have earned significant rewards from their Cash Generator businesses (indeed one in four owners have subsequently chosen to invest in additional stores), operating a Cash Generator franchise is not a 'get rich quick' scheme.
As well as a financial commitment, franchisees must invest a great deal of time and effort into their business. An ever increasing number of entrepreneurs look to develop their own portfolio of stores within the network and thereby employ the staff that manage the stores on their behalf on a day to day basis.
Everyone at Cash Generator is committed to helping develop both your individual business and the wider group brand. As part of this commitment, we invest a significant sum each year to advertise Cash Generator nationally on TV, radio or print. We believe that the Cash Generator tried and tested franchise model is a great way for hard working, committed people to build something valuable for their futures.
If you think that you are ready to make the most of your potential with Cash Generator, contact us today.