Love Cars? So do our Customers!
Clean up with Professional Car Cleaning
Demand for professional and reliable valeting services is higher than ever PCC offers hard-working franchisees the opportunity to earn up to £1,000 a week.
Operating from a smartly liveried, purpose-designed vehicle
using top quality exclusive products,
franchisees benefit from the experience, high-profile brand & customer
base of PCC's sister company, ChipsAway.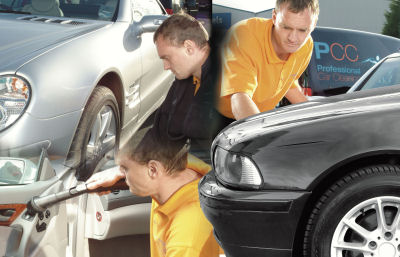 Launched early 2006, Professional Car Cleaning (PCC) is part of the ChipsAway Group. PCC franchisees provide the ultimate WOW factor in professional car valeting services to a huge, under-serviced marketplace.
This first class service is supplied through the use of a full range of high quality cleaning and valeting products, developed exclusively for PCC. Potential customers include private individuals as well as corporate contracts, with franchisees building a regular, repeat order customer base, quickly enhancing the value of their original investment.
In addition, PCC franchisees benefit from direct access to their sister ChipsAway franchise network, generating additional sources of new business in response to market demand.

PCC provides select private and corporate customers with a personalised, value for money service, delivering the highest quality results. If these same standards apply to you, this franchise will allow you to build a strong, healthy business. You should be ambitious, tenacious and hardworking, with a strong personal commitment and a determination to succeed.

Franchisees become our partners from day one. In addition to an excellent Training and Support Package (including a comprehensive Sales and Marketing module) we will work alongside you to get your business off the ground.
As your business grows, so does its value!

Our Sales and Marketing training provides you with a specific strategy to make the most of marketing opportunities within your exclusive area. Prospective customers are targeted to provide the core base of your new business. Typically, you would expect to provide valet services to:
corporate organisations (large and small)
high-value private vehicle owners
hotels
sports clubs
boat owners and marinas
motor trade (selectively)

Custom Built Franchise packages start from £9,995 with up to three modules allowing you to build your business structure as your needs dictate.- these are · Personal Launch Mentoring from PCC's General Manager · Personalised Marketing Package · Advanced Waterless System Training. PCC Franchisees are not subject to any on-going royalty payments – they simply pay a fixed Licence Fee of £200 per month

All High Street Banks offer highly competitive business loans and business account packages for new franchisee start-ups. In respect of our highly professional reputation Lloyds TSB now offers unique 100% business loan against the purchase of a PCC Franchise (subject to status). Call 0800 131 3301 for further details.

If you like the sound of a PCC franchise, why not bring your partner along to an informal Discovery Session. Held most weeks in the Midlands, Discovery Sessions are free of charge and require no commitment on your part. You will have the opportunity to see the PCC System in action, talk to Franchisees and ask any questions you might have in a relaxed and friendly atmosphere.

"I have full order books for weeks ahead" Franchisee Neil Gowing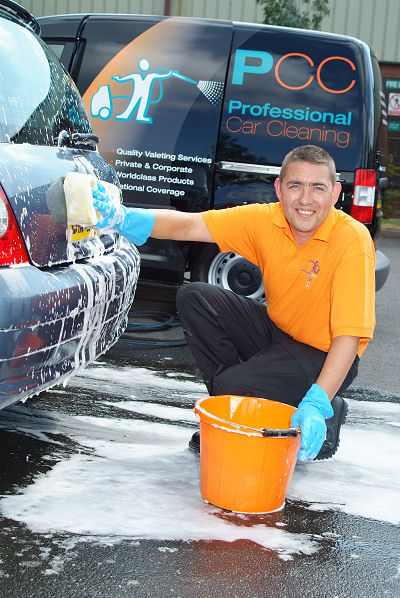 Former courier van driver Neil was looking for the right opportunity to start his own business and was instantly attracted by Professional Car Cleaning. "I love working with cars and was impressed by the professional look and feel of PCC". He lost no time in booking his place on a Discovery Session, which he attended with his wife Mandy.
"The PCC team was really laid back and came across well. They were happy to answer all my questions and I had the chance to chat to Terry Jones who operated a pilot PCC franchise for over a year and had built a fantastic business," Neil explains. "we were very impressed and quickly decided to go ahead and buy a franchise."
"The Training Course was excellent and so was the subsequent support I received from the PCC General Manager, Adrian Stiehl. I have full order books for weeks ahead and much of my work is either repeat regular valets for satisfied customers, or new business that comes from word-of-mouth recommendation. Customers have been known to text me to thank me once again for a wonderful job well done!"
Already, Neil is earning more than he did as a van driver. "I'm totally delighted with the way my business is growing. It's certainly hard work at the start, but as you get into it and people see you at work, new business always seems to follow."
I truly believe that PCC's professional presentation together with the reassurance that the business is part of the ChipsAway Group, wins customer confidence from the start.'

Contact: Stewart Davies
Address: PCC House, Edwin Avenue, Hoo Farm, Kidderminster, Worcs., DY11 7RA
Website: http://www.procarclean.co.uk
Email: info@procarclean.co.uk
Call: freephone 0800 131 3301
Fax: 01562 826737