The Franchise Support Service For Franchisors

The Success of Franchising has resulted in one of the biggest changes in the way that business is carried out since the industrial revolution occurred in the 19th Century.
The success or lack of failure of franchisees has provided a track record that is hard to match. However managing and developing a successful network can be a costly, time consuming and draining tiring experience.
Following extensive research both in the U.K. and America we have now launched our new support service aimed exclusively at helping the Franchisor to maximize the full potential of the franchise and the franchise network.
There are six major elements of our services:
Recruitment
We advertise nationally for franchisees both generally and for specific franchises, we then work with these potential franchisees to establish what skills they have and how best they can use them. We charge no fees to the franchisee and only make a charge to the Franchisor once the potential Franchisee has signed an agreement to purchase a franchise from them.
Training
We have at hand a network of qualified training staff that have hands on franchise experience. Our training courses are both practical and developed individually to meet the training needs that are agreed between the franchisor and us. It is important that training is developed by a team that understand some of the loneliness of franchisees and the frustrations of the Franchisor.
Management
The problems of obtaining the maximum potential from the franchise network can test the patience of any franchisor. We offer a complete service including franchise meetings, one to one consultancy for franchisees, business techniques & franchise royalty collection, together with regular & on demand franchise reviews.
Accounting
How many of your franchisees do management accounts ? Of those that do how many of them fully understand how they work ? Our experience has shown that management accounts are usually only done as a necessary evil for the bank and are not used as the management tool they should be. We are able to set up systems for yourself and franchisees that can significantly improve control and performance over your accounts.
Marketing and Public Relations
This can be & indeed should be one of the most powerful weapons in the successful development of any business. We can either help with a programme to establish name awareness for the franchise or as part of a programme for individual franchisees or both in a combined package..
Telesales
Having spent a long time looking for a good tele-sales company, we found that the best way was to do it ourselves. Our team is available for a variety of purposes including franchise recruitment, franchise launches or a short term boost to aid a struggling franchisee.
Menu
Franchise Opportunities | What is franchising? | Why franchising? | Legal Advice
Benefits of Franchising | Look4? | TFB Help | Franchisor Help | B.F.A. | Response Form | Glossary | Title Page |
---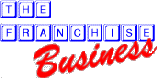 The Franchise Business, 51 Cowslip Rd, Broadstone, Poole, Dorset, BH18 9QZ
Tel: (+44) 01202 690942 Fax: (+44) 01202 605595
---
Web Site Designed By Arachnid