Papa John's Franchisees Open New Store in Bristol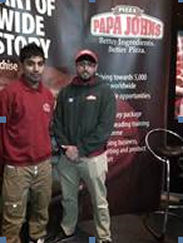 12 June 2013: Following the success of their first store opening in Derby, Papa John's youngest franchisees, Hitesh Patel and Harry Singh, both aged just 26 years old, have opened their second Papa John's pizza store. The new outlet is located in the Fishponds region of Bristol. Business partners, Hitesh and Harry who only joined Papa John's in April this year, tasted success quickly and now plan to acquire three further franchised outlets over the next four years.
"We chose Bristol Fishponds as a location as it ties in with our development plans," explains Hitesh Patel. "It is a densely populated area, with families and some students and one where we believe the community will benefit from the Papa Johns 'Better Ingredients, Better Pizza!' brand.
"Our Derby store is performing well we are growing and are becoming established in the area," he continues. "We have already been visited by the local Mayor which was a real highlight. Now our new expansion in Bristol will take us to the next level of our development plan and we are looking forward to opening new outlets in the near future."
"Although Hitesh and Harry are our youngest franchisees, they actually have more than 12 years' combined fast food background between them," explains Anthony Round, business development manager, Papa John's. "Their enthusiasm and experience combined with the support that the Papa John's franchise team offers, means this business minded duo have the right ingredients to deliver an exciting future."
Papa John's is one of the largest pizza companies in the world, with around 4,000 stores worldwide and is rapidly expanding in 33 markets around the globe. Papa John's, which is renowned for its product quality, has opportunities for potential franchisees throughout the UK including the key locations of the South East, Yorkshire, Manchester, West Midlands, East Midlands, South West, North East, Wales & Scotland.
For more information about Papa John's please visit www.papajohns.co.uk