Papa John's expands in West Midlands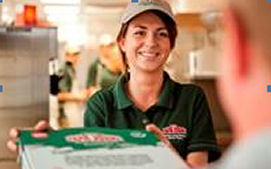 25 June 2013: Leading Pizza franchise, Papa John's, has announced it has opened two new stores in Birmingham Central and Brown Hills, Walsall. Both West Midlands franchised outlets will offer pizza using the freshest quality ingredients, which has been the foundation of Papa John's concept for many years.
"We believe that better ingredients make better pizzas," confirms Anthony Round, business development manager, Papa John's. "Our franchisees and their new staff have been fully trained and are now ready to deliver on our promise of 100% fresh dough pizzas with our unique tomato sauce made from the best Californian tomatoes, picked and packed from vine to can in just six hours, giving a better natural flavour."
Tony Kular franchisee for the new Brown Hills store, who also owns the Bromsgrove, Telford, Walsall and Hinkley Papa John's franchise outlets comments: "The Papa John's brand is rapidly growing in popularity in the UK. We are delighted to have been able to open our fifth outlet in Brown Hills to supply top quality pizza to the local community. From a business point of view the franchise offers an excellent opportunity to run an expanding business and we are looking forward to further growth through new outlets in the future."
Papa John's is one of the largest pizza companies in the world, with around 4,000 stores worldwide and is rapidly expanding in 33 markets around the globe. Papa John's, which is renowned for its product quality, has opportunities for potential franchisees throughout the UK including the key locations of the South East, Yorkshire, Manchester, West Midlands, East Midlands, South West, North East, Wales & Scotland.
For more information about Papa John's please visit www.papajohns.co.uk